COACH, CONFIDENTIAL ADVISOR, PUBLIC SPEAKER AND AUTHOR
---
My approach is based on ACT Acceptance & Commitment Therapy (evidence-based), on Brave Leader BLI Brené Brown Education & Research Group (evidence-based) and on 5 years of research of the work of Parker J Palmer of the Center for Courage and Renewal.
As long as there are people, people are storytellers! So I invite my clients, by sagacious research and checking their facts, becoming true owners of their story. I strongly believe that OWNING your story will guide you to values, personal leadership and authenticity. Biografic Coaching is a part of my approach. It takes a lot of courage to dive into your own story, by asking questions, sometimes tough questions.Together with my clients I will get the best out of themselves.
I work on 1 : 1 base and with groups. In my own studio in Enschede area, on location everywhere in NL and in EU, on Skype/ZOOM online and via Phone consult. Together with my client(s) we will decide how to continue in this traject. Personal Values are the key of my work. Living to your own values is my main issue in my coachings. I had to learn this myself, and therefor I am passionated inspiring my clients discovering their own values.
An important issue in my work with my clients: Personal Leadership. In my coachings I make a special line in this subject: articulation (the ability of being aware of the dynamics of one's inner life), compassion (the ability of dealing with differences/difficulties/obstructions and at the very moment developing the desire to take action), contemplation (asking questions and trying to discover the true reason of those questions), and…hospitality (the ability of paying attention to other persons and yourself, and about 'taking time'.).
This model explains the forms of Personal Leadership, I use this a lot to give some clearness: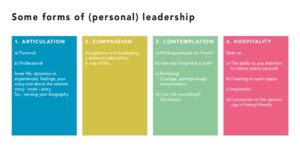 How people appreciate my work, please read some recommendations:




Further recommendations please visit my Linkedin page
Before you continue your visit on my site I would like to share this poem 'What can I say' of my favourite poet Mary Oliver. About the life you lived, the life to go, about values. Clear, wise and powerful words: