COACH, CONFIDENTIAL ADVISOR, PUBLIC SPEAKER AND AUTHOR
Now I work in the team of the Toon Hermans Huis (a house for everyone involved in situations concerning cancer). Also I have my own studio, and I coach in NL, UK and G.
My special points of attention: personal growth, personal leadership, how to deal with (long term/chronical) illness, and coming outs.
About my formations:
---
– Graduated- and Certified Acceptance & Commitment Therapist ACT (NL), recognized by several dutch organisations (please take a look to the dutch version of this page);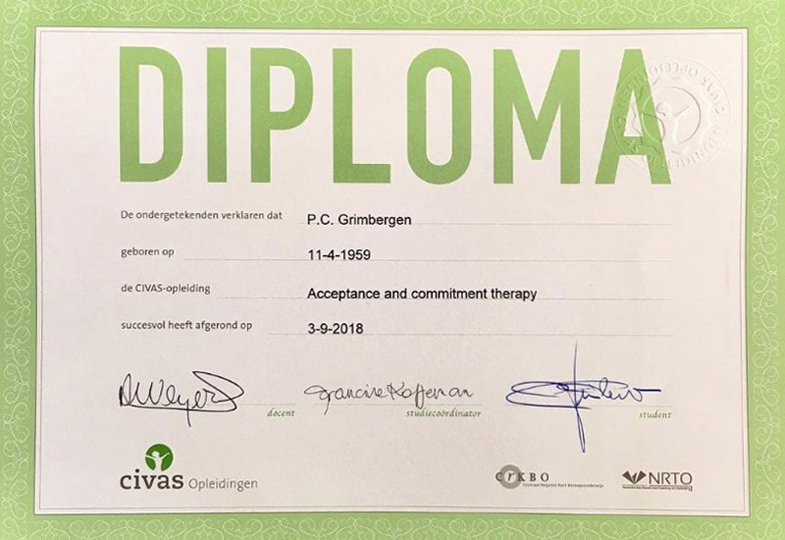 – Recognized- and Certified Brave Leader BLI Brené Brown (USA);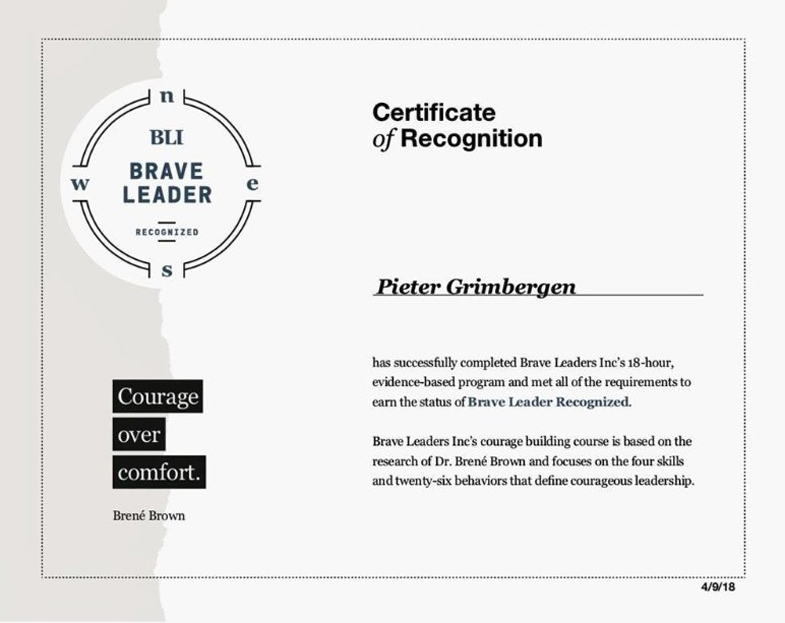 – Research of the work of Parker Palmer (2013-2017) and participating Retreats of the Center For Courage And Renewal (USA) in Personal Leadership and Personal Development;
– Short Course of 'The Work' from Byron Katie;
– Dare to Lead hub Brene Brown;
– Training 'Shapes of Leadership' Nick Ross (Leadership expert) / Barbara Reid, Devon UK 2019
In june 2019 I completed the training at 'Square Of Life' (facilitator: Susanne Kruys) to keep my technique in Biografic Coaching up to date. To be continued…please reed about the follow up on EXTRA
BEWIJS VAN DEELNAME Square of Life
Extra Courses:
– SOAIDS Nederland (Aidsfoundation NL): Culture-Sensitive and Resilience (Certified 2018)
– SOAIDS Nederland (Aidsfoundation NL): SOA HIV AIDS Client Support (Certified 2018)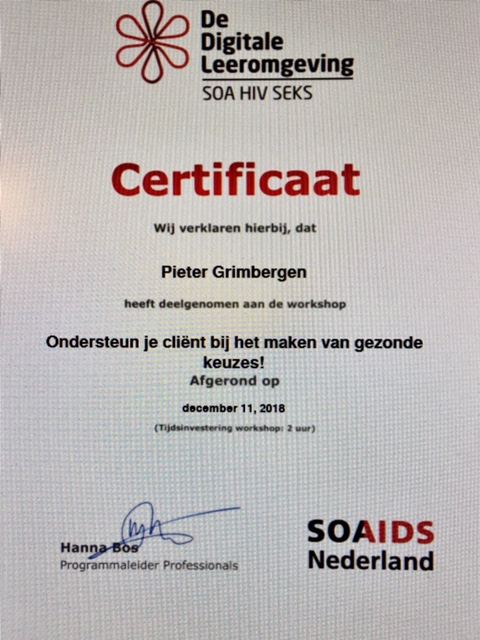 – Hanze University Groningen: Business Management (Certified 1993)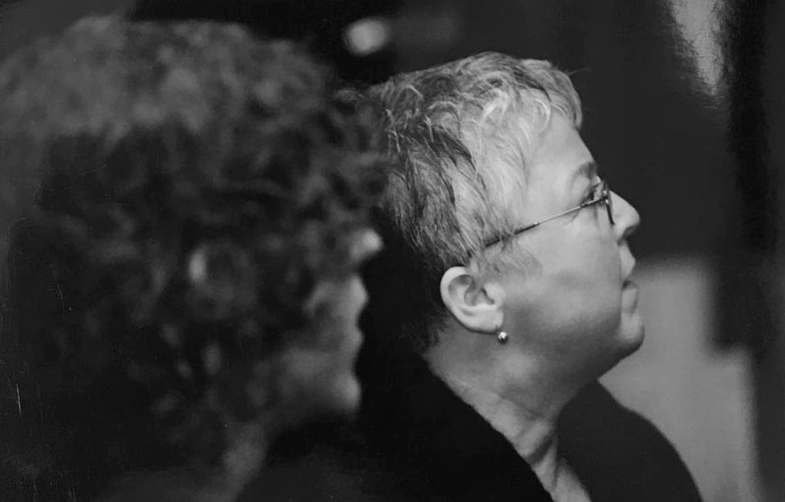 Recognized by…
ACT is worldwide recognized by SAMSHA American Mental Health, APA American Psychological Association, The Dutch Board of Counselling, The Dutch Organisation for Alternative Treatments.
Member of the ACBS.

Public Speaker for…
– AIDS FONDS HOLLAND (1992, 1993. 1994);
– MUN Model United Nations (2006);
– Amnesty International (2009- present);
– Brain Cancer Research Belgium (2015);
– KIKA Holland (2016);
– Het Vergeten Kind Holland (2017);
– Stichting Papageno (2018);
Extra info Public Speaking: Pieter Grimbergen was invited as a main speaker at House Of Perpetual Evolution on may the 17th 2019 about 'Transformation' will be the thema of this speech. And on the 19th of june 2019 Pieter Grimbergen told about his coachings and about his book in the AMPHION Theatre Doetinchem NL from 13-17 H.
Free time
People lover, nature lover, culture lover.
Languages
Nederlands, English, Deutsch, Francais.
Membership Communities:
– Living Adventurously, UK London area, subject: sustainability;
– Oxygen4leadership, B Antwerpen area, subject: authentic leadership;
– FWoC Ambassador.
Social Media: please visit my profile on my linkedin page
PS At 'Contact & Links' you can listen to some music, made- and played by myself.