COACH, CONFIDENTIAL ADVISOR, PUBLIC SPEAKER AND AUTHOR
RECENT EXTRA'S:
Great to be a public speaker on MAY 17th 2019 at https://houseofperpetualevolution.com. We had many beautiful moments together.
The 6TH OF JUNE 2019 :'Day of the Coach'. On this day I was 'Coach of the Day' in The Netherlands.  Trainingcentre CIVAS invited me for an interview on that special day, about my work as a coach and about my WHY being a coach. On https://www.civas.nl/blog/student-coaching-aan-het-woord/4
And on JUNE 19th 2019 I participated on a big meeting in Amphion Theatre Doetinchem NL. From 13-17 h you were able to meet me meet me in the foyer of this theatre on a congress of Health Care Organizations The Netherlands Region East. But of course I would like to welcome you at my place in my own studio!
Since SEPTEMBER the 3rd I work in the team of the Toon Hermans Huis in Tiel NL, an organization helping people with cancer and their family, friends, collegues etc. It enrichens my carrier as a coach and it will add a lot to my life.
In SEPTEMBER 2019 20/21 I participated a course DEBATING, NETWORKING etc. at the Summerschool CDA Steenkamp Instituut in The Hague NL. I am an active member of CDA PRIDE. A training by highly qualified people. Always developing as a person and as a coach!
MARCH 20th will be the start of a fantastic training at AI-Opener based on Marshall Rosenberg's CENTER OF NONVIOLENT COMMUNICATION. In may 2020 I hope to achieve a certificate.
In 2020 october 18-24 I will attending at a Retreat in Trosly-Breuil/France at L'Arche by Gabrielle Earnshaw (from Canada Toronto) about the work of Henri Nouwen. To me Henri Nouwen is a great source of inspiration, as a coach and in my private life. This Retreat will follow the process Nouwen went through making big decisions in his life.
And NEWS: I am writing A BOOK, release second part 2020. In paper version and e-book. With symposia and Theatre Lectures about my book. Stories about Chronical Illness and the consequences to social life. About articulation of life, about contemplation and compassion, about hospitality, about dignity. Written together with people suffering from chronical illness, especially (chronical) cancer.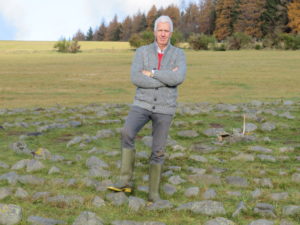 The illustrations of my upcoming book (release aprox. sept. 2020): photos made by myself from the Schöpfungspfad/Eifel Germany. A big walk with 10 questions about 'why' in your life. This path ends in a labyrint, as you can see on this photo. A beautiful metaphore…
And about my extra programs:
PUBLIC SPEAKER, lots of invitations in The Netherlands and abroad.